PE
Curriculum Intent
Through studying PE at Walton Oak, pupils will be inspired to succeed and excel in competitive sport and other physically-demanding activities. They will become physically confident in a way which supports their health and fitness and encourages them to lead healthy, active lives. Pupils will be given the opportunity to compete in sport and other activities that build character and help to embed values such as fairness and respect.
Every class from Year 1 to Year 6 receives two PE lessons per week, usually comprising of one indoor and one outdoor lesson.
The curriculum is broad and balanced. Additional specialist teaching, particularly in music and physical education, is a strength of the school.

Ofsted, November 2017
Within our PE lessons we aim to:
Follow a sequential, developmental curriculum that progressively builds on past experiences and incorporates new experiences when children are ready. Lessons are not simply selected randomly with no obvious connections to past and future lessons, or just as a way to keep children "busy, happy or good" for 60 minutes.
Physical education is a moving experience. We aim to find ways to actively engage all children in moderate to vigorous physical activity for the vast majority of every lesson.
In addition to being actively engaged, children also need plenty of opportunities to practice the skill or concept being taught that day. Our quality programme will provide many practice opportunities, sometimes alone, sometimes with a partner and sometimes during small sided games in groups.
As well as copious practice periods, we aim to plan lessons so that youngsters of all abilities have high rates of success. When children, particularly unskilled pupils experience success, they are more likely to continue practising and working to improve than when they fail continually.
We try to promote successful learning experiences in a warm environment in which children are encouraged to practice new skills and improve their fitness levels without feeling embarrassed.
We aim to make sure all our classes as much fun as possible so that children enjoy and look forward to PE, both at primary and through to when they start at secondary school.
Pupils make good progress across the wider curriculum. Their achievements in sport, music and the creative arts are particularly impressive. Highly effective teaching ensures that pupils' physical and artistic learning is of a high standard.

Ofsted, November 2017
Why do children need a quality programme of Physical Education?
Children learn to understand the importance of exercising for a lifetime.
Regular, physical activity is the best antidote to eliminate obesity and maintain an acceptable body weight. It also provides a positive alternative to watching television or playing on tablets, computers or mobile phones.
Children learn the fundamental motor skills that enable them to develop the competence that creates confidence and leads to safe and successful participation in a wide range of sports.
Children are encouraged to improve their fitness levels during PE lessons, including muscular and cardiovascular endurance, strength and flexibility.
Youngsters can learn valuable lessons about accepting responsibility for their personal development leading to greater self-discipline.
PE promotes opportunities for children to be creative, cooperative and competitive and to face up to different challenges both as individuals and in groups.
A 'good workout' helps ease stress, tension and anxiety and will result in better attention in class.
Many activities taught in PE require children to work in groups to solve problems or as a team. These opportunities are excellent for developing both leadership and cooperation skills.
Sports activities are an excellent way to meet and make new friends. Confidence in one's physical abilities encourages youngsters, and later adults, to socialise more easily and 'fit into' a variety of situations.
Children learn to develop the notion of fair play, honest competition, good sportsmanship and dealing with both success and defeat.
Movement can be used to reinforce the understanding of many subjects taught in the classroom e.g. mathematics. Movement is also associated with enhanced brain functioning.
PE is especially important to children who have yet to develop their verbal communication skills. Thus, their confidence in physical abilities can lead to positive feelings of self-esteem.
PHYSICAL EDUCATION PROGRAMME OF STUDY - PRIMARY
The new National PE Curriculum (in England) came into force in September 2014. To view a copy of the current Primary School National Curriculum PE programmes of study, please see below.
What are School Games?
The School Games is a unique opportunity to motivate and inspire millions of young people across the country to take part in more competitive school sport. The Games were designed to build on the magic of London 2012 to enable every school, and child, to participate in competitive sport, including meaningful opportunities for disabled youngsters. There are four levels of competition: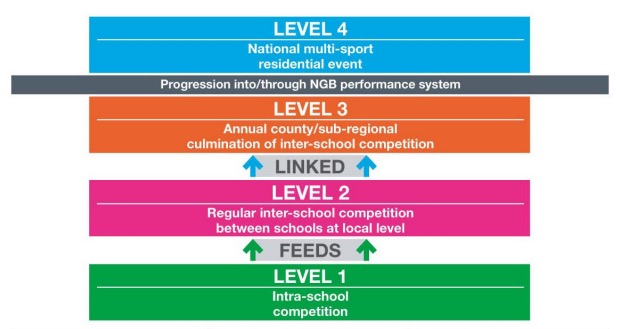 Intra-school (Level 1) - sporting competition for children in school through intra-school competition. For many young people sporting competition is first experienced through house teams or in PE lessons. Level 1 of the School Games will build on a school's existing work to offer pupils a year-round programme of regular intra-school competition in a number of sports that culminate in a School Games Day: the ultimate school sports day!
Inter-school (Level 2) - individuals and teams from Years 3 to 6 are selected to represent their school in local inter-school competitions, some of which will be leagues. Schools will have the flexibility to decide which sports to enter but are encouraged to involve as many pupils as possible by creating breadth in the sports they offer, and depth through the creation of additional teams.
School Games Festivals (Level 3) – these are county competitions. Each county will host a multi-sport showcase event as a culmination of the year-round programme of competition between schools that is offered at level 2. Teams and individuals competing at Level 2 will win the opportunity to compete in this event if they qualify via Level 2 School Games league or competitions in their districts.
School Games (Level 4) - this is a national multi-sport event, in which the country's most talented athletes of school age compete, if selected by a National Governing Body of Sport. This event takes place in high quality venues amongst a unique and vibrant atmosphere to replicate the world's top sporting occasions. The event supports athletes development and acts as a stepping stone to further national and international competition.