Our PE Curriculum
Every class from Year 1 to Year 6 receives two PE lessons per week, usually comprising of one indoor and one outdoor lesson.
The curriculum is broad and balanced. Additional specialist teaching, particularly in music and physical education, is a strength of the school.

Ofsted, November 2017
Within our PE lessons we aim to:
Follow a sequential, developmental curriculum that progressively builds on past experiences and incorporates new experiences when children are ready. Lessons are not simply selected randomly with no obvious connections to past and future lessons, or just as a way to keep children "busy, happy or good" for 60 minutes.
Physical education is a moving experience. We aim to find ways to actively engage all children in moderate to vigorous physical activity for the vast majority of every lesson.
In addition to being actively engaged, children also need plenty of opportunities to practice the skill or concept being taught that day. Our quality programme will provide many practice opportunities, sometimes alone, sometimes with a partner and sometimes during small sided games in groups.
As well as copious practice periods, we aim to plan lessons so that youngsters of all abilities have high rates of success. When children, particularly unskilled pupils experience success, they are more likely to continue practising and working to improve than when they fail continually.
We try to promote successful learning experiences in a warm environment in which children are encouraged to practice new skills and improve their fitness levels without feeling embarrassed.
We aim to make sure all our classes as much fun as possible so that children enjoy and look forward to PE, both at primary and through to when they start at secondary school.

OUR KEY STAGE 1 & 2 PE CURRICULUM (2019-2020)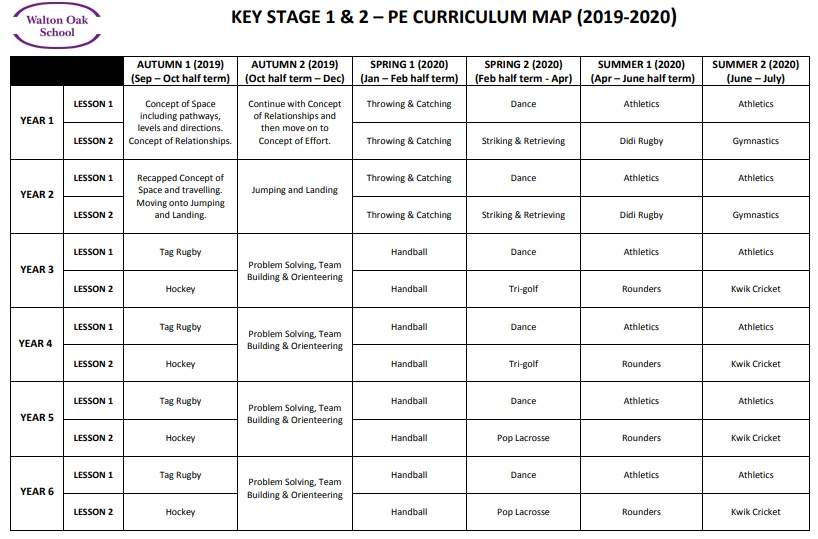 Pupils make good progress across the wider curriculum. Their achievements in sport, music and the creative arts are particularly impressive. Highly effective teaching ensures that pupils' physical and artistic learning is of a high standard.

Ofsted, November 2017
PHYSICAL EDUCATION PROGRAMME OF STUDY - PRIMARY
The new National PE Curriculum (in England) came into force in September 2014. To view a copy of the current Primary School National Curriculum PE programmes of study, please see below.